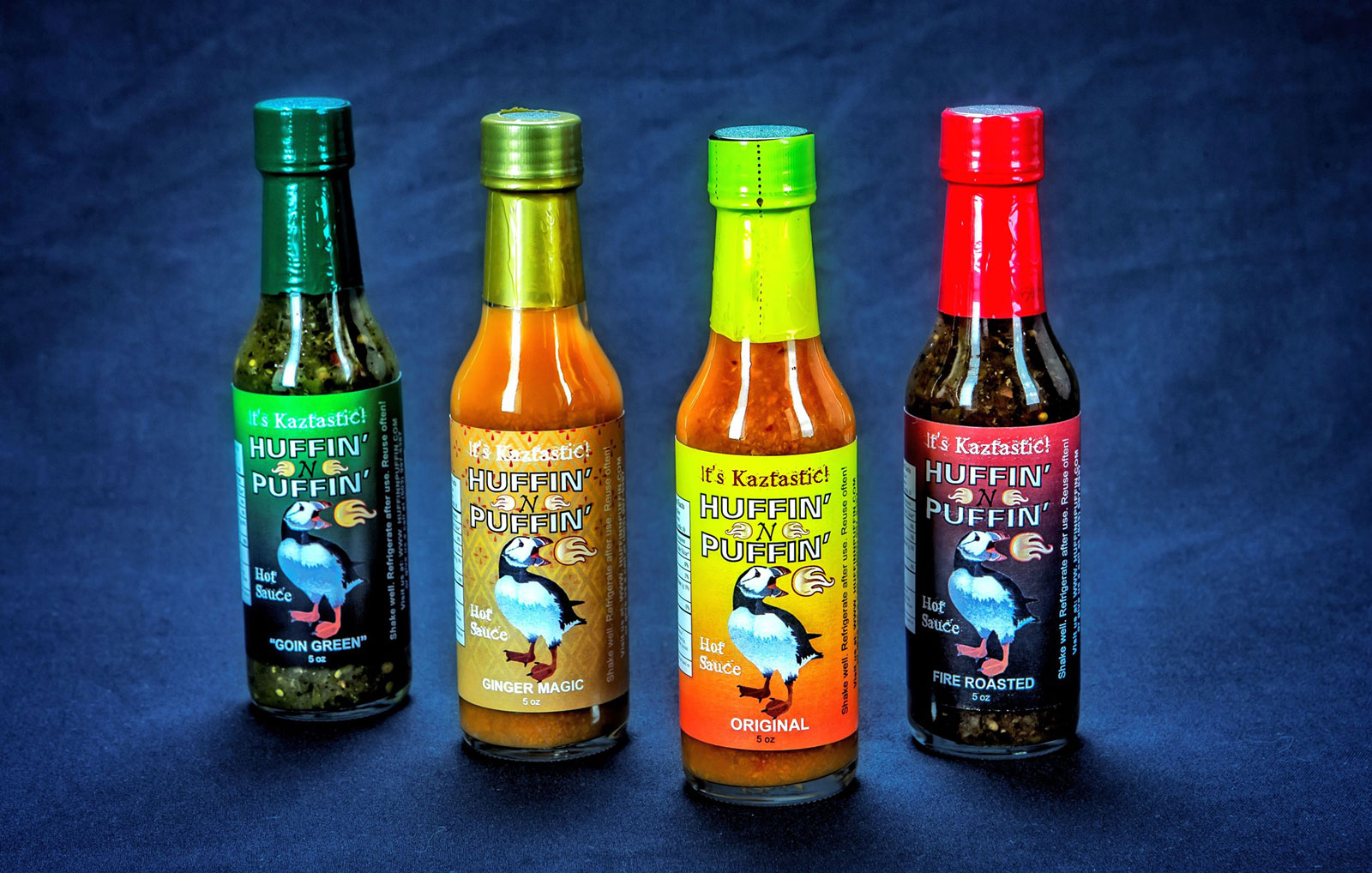 Huffin-N-Puffin
Welcome to
Huffin-N-Puffin Hot Sauces!

The Kazastrophic Company, LLC is based in Vancouver, Wa., and makes 4 really tasty, flavorful hot sauces. All are handcrafted in small batches using real produce and natural ingredients.
We also make seasonal sauces and specialty sauces a few times a year. The 4 sauces that are crafted regularly are:
Our Original recipe, a carrot and habanero base with garlic, onion and spices to create a wonderful blend of heat and taste…
The 

Fire Roasted

 recipe is a tomato base with fire roasted serrano, jalapeno, onion, garlic, yummy spices, with a hint of a smoky flavor, excellent in all uses from pizza to mixing with your favorite soup or salad dressing.
Our 

Goin' Green

 is a tomatillo base with fire roasted peppers, cilantro, onions, garlic and spices. It is great with breakfast and many other food items…
Finally, we present 

Ginger Magic

, a fantastic blend of real ginger root, peppers, carrot and spices, and is excellant on wings, chicken, stir fry or what ever your imagination can think of to use it on…
We are proud to use all natural ingredients and real produce to achieve the the right amount of heat and flavor.
We can also make sauces and put on your own label for special events, as a gift for example, or a wedding with your special date on it…
We are sold in stores in the Vancouver/Portland metro area such as
New Seasons
Chucks Produce
Whole Foods
Butcher Boys Meat Market
Camas Produce
Battle Ground Produce
The Pacific Northwest Seafood Company in Ridgefield
The Pioneer Street Cafe
We will ship anywhere and take orders by a simple phone call.
Great for gifts, everyday use and the sauce connoisseur…Thank you for giving us a try…the sauce speaks for itself and once you try it, you will agree that it truly is a one of a kind, very tasty sauce…
"You gonna love this sauce"… It's "Kaztastic" and very "Kazalicious"!

Kaz, the hotpepperdude